The new technology Bluetooth Turtle on Amazon.com is now available, from Useful Innovation LLC.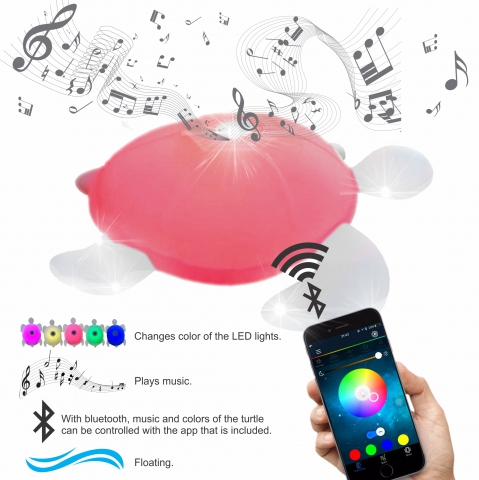 Charlotte, United States - September 13, 2017 /PressCable/ —
Available now, from Useful Innovation LLC , is the new technology Bluetooth Turtle. Made from UV resistant PVC waterproof plastic, the Bluetooth Turtle is a floating swimming pool light and Bluetooth speaker combination designed to add flare to lake or swimming pool parties or get togethers. Available on Amazon at http://usefulinnovation.com/turtle
The floating turtle swimming pool LED light is 25 x 20 x 8 ½ inches. It is programmable to emit seven different LED colors of blue, yellow, purple, green, pink, white, ect., Each color is capable of being displayed as eleven different light intensities. The colors may be programmed to display one at a time or scroll through the colors continuously, one after the other. It is also programmable for the colors to flash in beat with the music being played during music entertainment. After charging for six to eight hours, It may be operated as a pool light for four to six hours.
The turtle has high quality UL approved electronics and waterproof speaker. Charging takes place indoors using a UL approved charger. Built in waterproof speakers are of excellent quality and adjustable to where they can be clearly heard at any pool party. The unit is controlled using the provided remote control or a compatible smartphone. Music may be uploaded or played through the smartphone connection.
The turtle is a handy pool accessary for night time parties, family, or just hanging out in the water listening to music. It acts as an imaginative gift to friends or family owning water features who might be looking for an imaginative high tech toy to show off to friends. The turtle is of an attractive and innovative design that is sure to raise eyebrows.
The turtle is sold through Amazon with a money back guarantee and is available now at http://usefulinnovation.com/turtle
Contact Info:
Name: Robert Miller
Organization: Useful Innovation
Address: Charlotte NC, United States
Phone: +1-704-888-0941
For more information, please visit http://www.usefulinnovation.com
Source: PressCable
Release ID: 238586